Dobšice
48.84363N, 16.083052E
Prace u Brna
49.127681N, 16.762416E
Napoleonic Games in Austerlitz
12.8.2017
The whole day will be dedicated to presentations of everyday life in the early 19th century as well as the life of the soldiers encamped in the Chateau park. You will have an opportunity to watch the contemporary armies and cavalries exercising and fighting in a battle demonstration. An Empire-style carnival will light up the Chateau park in the evening.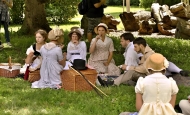 Slavkov u Brna
49.154742N, 16.874567E
Small Napoleonic battle in Telnice
27.8.2017
The Telnice municipality invites you to a small Napoleonic battle on the last Sunday of August. You can join soldiers in period uniforms with weapons including cannons in a procession to commemorative ceremonies at the Kopjafa memorial and Na Lopatě wayside shrine. Cannon salutes will be fired to mark the end of the procession, with more items of the programme yet to come.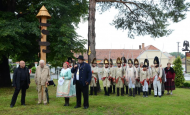 Telnice
49.101869N, 16.71775E